When you are single and trying to maintain sobriety, the thought of dating may seem like a challenge. You want to meet someone, but you also want to prioritize your recovery. How can you strike that balance? It's true that dating can easily throw us off balance, which is why people in recovery are advised to focus on sobriety for at least a year before dating. If you are not sure whether you're ready to start dating, talk it over with a therapist or your sponsor. But once you feel ready to date, approach the process with both excitement and a plan to stay connected with your recovery practices. 
Seven Tips for Sober Dating
Communication is key.

Be honest, and

communicate your expectations early on in the dating process so that the other person understands the importance of your recovery

. It is best to tell the person you are dating that you are in recovery and committed to staying sober so they know your situation.

Be realistic.

You will want to set realistic expectations when dating. Not every date you go on will lead to a relationship. It is fine to take things slow and not put pressure on yourself. Dating should be fun, not stressful.

Avoid triggers.

You may want to avoid certain places that serve alcohol or remind you of your past. Plan activities or make suggestions that are alcohol-free, such as going to a coffee shop, taking a nature hike, or visiting a museum to look at art. 

Have an exit strategy.

Always plan ahead, and if you begin to feel uncomfortable or triggered on your date, be prepared to leave and focus on yourself.

Connect with support groups.

If you are uncertain about dating while sober, connect with support groups such as

Alcoholics Anonymous

or

Narcotics Anonymous

, where you can meet others who understand your journey and can offer suggestions or encouragement.

Practice self-care.

It is essential to make yourself and your sobriety a priority. This holds true when dating. Make sure to take time and prioritize self-care activities, such as exercise, meditation, and spending time with supportive friends and family.

Don't compromise your sobriety.

Remember that you worked hard to get where you are, and your recovery comes first. Don't compromise your sobriety for a relationship.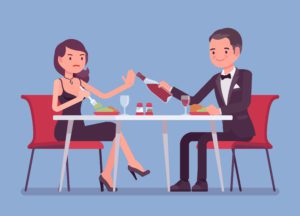 Sober Dating Red Flags
As you begin to get to know someone, be aware of "red flags." These signs that something may not be quite right might include the following:
The person you are dating is focused on using alcohol or drugs. 

The person you are dating encourages you to drink or use drugs in an attempt to

sabotage your sobriety

.

The person you are dating does not support your recovery and is not respectful of your boundaries.
You can also look for "red flags" in yourself. For example, are you dating someone you know isn't right for you because you want to fill a void in your life? Are you dating because focusing on a relationship is easier than focusing on your own goals and well-being? Are you genuinely prepared for the commitment a meaningful relationship requires? Again, a therapist or sponsor can help you sort through the often-complex feelings that motivate your desire to date. 
Ultimately, you'll want to look for a potential partner who respects your sobriety and understands the dedication it requires. If something does not feel right early on in the relationship, trust your gut. Not much can trigger relapse more quickly than a romantic relationship gone sour. 
On the other hand, finding a partner who is supportive and caring can enrich your life and keep you focused on your recovery journey. 
You Are Not Alone
If you or a loved one are struggling with a substance use disorder, you are not alone. At Twin Lakes Recovery Center in Monroe, Georgia, we are here to help. We can help put you on the path to long-term recovery. To learn more about the variety of treatment programs we offer, please contact us today.